We Are Committed To Our Clients
Warranty
We're Professional and Dedicated Asphalt Driveway Pavers
Warranty Agreement for Driveway Installation by MG Paving
519-781-8025
1. Warranty Period: MG Paving hereby undertakes, for a period of ONE (1) year from the date of completion, to rectify any defects arising solely from substandard materials or workmanship utilized in the installation of the driveway.
2. Exceptions to Warranty: The warranty provided herein shall not cover the following:
Tire marks
Damage from gas/oil spills or chemicals
Damage inflicted by the homeowner or third parties, including but not limited to:

Twisting of tires
Gas/oil/chemical spills
Parking on unsupported edges
Damage from high heels, chairs, bicycles, or sharp objects
3. Lot Lines and Encroachments: The Purchaser shall be solely responsible for determining the exact location of the area to be paved in relation to existing lot lines. MG Paving shall bear no responsibility or liability with respect to any encroachments onto adjoining properties.
4. Sealing: Should the Purchaser decide to seal the driveway, such sealing must be performed only after the expiration of the warranty period. Any sealing performed prior to this will render the warranty void.
5. Twisting Tires & Curing Stage: For Residential Accounts, the Purchaser is advised to only drive straight in and out of the driveway without twisting the tires. Furthermore, no objects should be placed on the driveway during its curing stage, which typically lasts between one to one and a half years.
6. Acknowledgement: The Purchaser hereby acknowledges having read and understood the terms of this contract, and agrees to abide by them. A copy of this contract has been provided to the Purchaser.
7. Payment Terms: Interest will be charged on all outstanding invoice accounts at a rate of 2% per month (24% per annum). Estimates provided under this agreement shall be valid for a period of thirty days from the date of issue.
Guidelines for Maintaining Asphalt Surfaces:
Asphalt's semi-flexible nature is what makes it an exceptional paving material, particularly suited to our climate. Its flexibility, while advantageous, means that the surface can sometimes soften, leading to potential marks or indentations. To help you maintain the appearance and functionality of your asphalt surface, here are some key guidelines:
Initial Curing Period: Avoid driving or parking on the paved surface for 5-7 days during summer months. The time needed for the asphalt to cool and harden may vary with weather; cooler seasons typically require less time. Be mindful of potential tire marks and depressions, which may result from parking on asphalt that has re-softened due to hot weather, parking near the edge, or not staggering parking. Even years after paving, heat waves may soften the asphalt.

Steering Considerations: Always ensure the vehicle is in motion when steering, as dry steering (turning wheels while stationary) can damage the surface.

Preventing Chemical Damage: Avoid allowing gas and oil to contact the paved surfaces. Using an asphalt sealer may reduce damage from oil-based products.

Avoiding Indentations: Refrain from placing pointed objects such as ladders, lawn chairs, tire chains, or narrow-heeled shoes on the new asphalt surface. These can concentrate weight on a small area, causing indentations. If needed, use a board to distribute the load.

Sealing Practices: Avoid using sealer for the first three years, unless otherwise advised. For more information or an estimate on sealing, please contact us. If you choose a DIY option, an asphalt emulsion type sealer is recommended.

Weed Control and Edging: Keep the sides of the asphalt edged to prevent weed growth. If weeds appear, treat them with a weed killer solution (e.g., vinegar, dish soap, salt). In some cases, it might be beneficial to backfill over the tamped edge of the asphalt for stability, as the tamped edge can be covered without issue.

Heavy Vehicles and Equipment: Avoid having very heavy vehicles or equipment drive on your asphalt, unless specifically designed for heavy use, as it may cause damage. Most driveways are engineered to support regular vehicles and light trucks.
By adhering to these guidelines, you can preserve the quality and appearance of your asphalt surface, making the most of your investment. If you have any questions or need further assistance, please don't hesitate to reach out to us.
A Beautiful New Driveway Every Time
Make a great first impression when shoppers drive into your plaza.
Free Expert Advice Always
We will inform you of the absolute best paving options that are the most affordable and durable.
We are working hard to become the best pavers in Waterloo. Yes, you can expect a perfect paving job.
Free On-Site Quote
A Friendly and Professional Meeting To Discuss Design Ideas, Costs and Timelines.  Let's Get Started Today!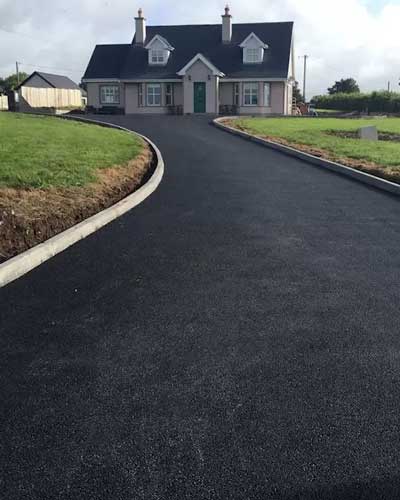 A Beautiful New Driveway Every Time