what sets us apart
Google Reviews: Top-Rated
At MG Paving, we're proud to offer top-rated service and support to our customers. Our 5-star Google reviews are a testament to our commitment to excellence, and we're thrilled to have such positive feedback from satisfied clients.
When you choose MG Paving, you can trust that you're working with a team that truly cares about your needs and wants to help you succeed. Our customers consistently rave about our friendly and knowledgeable staff, our timely and efficient service, and the high-quality results that we deliver every time.
Whether you're in need of a new asphalt paved driveway for your home, a parking lot for your office or business, or a driveway repair, we're here to help. Our team is dedicated to providing you with the best possible experience, from start to finish, and we're proud to have earned such positive feedback from our valued customers.
Take a look at our 5-star Google reviews and see for yourself why MG Paving is the best choice for all your asphalt driveway paving needs. We look forward to serving you and exceeding your expectations!
The owner is super friendly and responsive. They came to do the estimate very quickly and did the job professionally.
I was looking to replace my asphalt drive way and I shopped around in the region and they had the best price. Although they did not have much reviews like other contractors, but I gave them a try because they responded to my email quickly and in a good manner. It turned out great!! They came on time and did the job above and beyond my expectations.
Definitely will recommend them to anyone who is looking for drive way installation and repairs. Give them a try and you won't regret!
The team at MG Paving are awesome! I just had my driveway fully re-done by them and they did an amazing job. The crew is full of great workers, who take the time to make sure the job is done right and the customer is happy. The attention to detail is next to none and the finished product was immaculate. We have an older home and could not get anyone willing to do the job as it was a difficult lay out. But that did not stop the team at MG paving from taking the job! They got it done and left us fully satisfied and for that, I would recommend anyone looking to have work done to contact these guys immediately. Thanks again team!
We hired MG to redo our driveway and I must say I am more than happy with the end product. The key factor for which I would recommend MG is their costumer service and workmanship. Through the entire process their project manager was attentive to our vision on how we intended to get our driveway done. Thanks to the team and wish nothing but the best on all future projects.
The MG Paving team did an amazing job on my driveway. The did the job in time, pay attention to details, also they were very informative. Everything was done properly. I highly recommend MG Paving for your asphalt projects. Great work guys.
I had a new driveway installed in the Fall. There were several "tricky" areas to work around which MG Paving handled with ease. They did a great job and I am very satisfied with their work. They are very friendly to deal with. I highly recommend MG Paving to everyone.
Friendly service. Residential asphalt driveway done to my satisfaction. Adjusted labour/materials based on my changes to original scope. Completed job on time.
MG paving did a good job in paving my driveway. They were able to finish the job with a short notice.
I had a great experience with the replacement of my Driveway. Communication was excellent. All questions and concerns were answered in a timely manner. I would recommend them to anybody looking to repave their driveway.
Team was very honest, professional and had excellent communication throughout the project timeline. 100% recommend them to anyone looking for these services.
Excellent customer service and very happy with the end result of my driveway.
Hardworking guys, good price, in time
Trustworthy
Very professional company who takes the time to answer all questions you have. I much appreciate their patience in working with me in understanding how the process works. Do recommend reaching out to them if you need a driveway done/redone. Great service all around. Thanks Gerardo!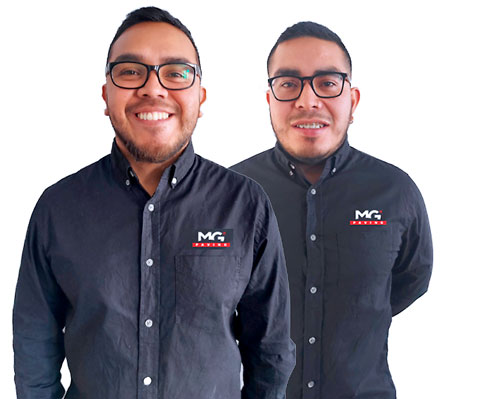 Hello and welcome to MG Paving. We are Gerardo and Moises.
You never get a second chance to make a great first impression so let us make sure your paving project is handled properly and the finished job looks amazing.
Let's get started on your residential or commercial paving project.  We are available at your earliest convenience and will honour your time and budget.
We are the 'paving brothers' and will work hard to earn your trust, your business and your reviews.
We'll make your next paving project easy and affordable.  You can expect top-quality workmanship and professionalism before, during and after each project.
-Moises and Gerardo 
A Beautiful New Driveway Every Time